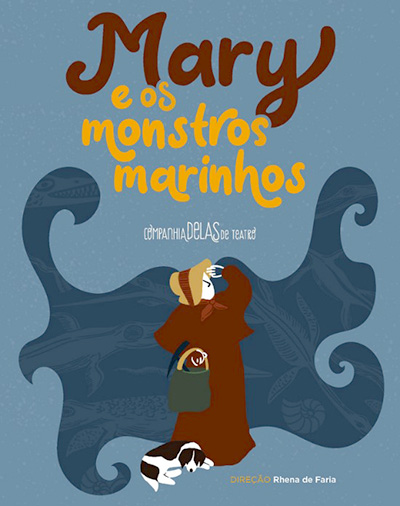 P
resentation Scientists Introducing Mary Anning
Written and produced by the award-winning company Delas, the play Scientists Introducing Mary Anning is a pocket, 35-minute, version of the production Mary and the Sea Monsters, the only Brazilian play that explores Paleontology and Women's Empowerment themes, inciting the public to approach and engage in valuing the fossil record as a scientific trasure and instigating childrens to pursuit scientific careers.

The role of women in multiple areas of society is evident in the play that sheds light on the field of science. The Company, formed exclusively by actresses-researchers-producers, has a natural interest in feminism/feminist themes in 18 years of professional experience. This time, the inspiration came from the children's book The Scientists: 50 Women Who Changed the World (2017), of the American writer and illustrator Rachel Ignotofsky. Dealing with gender equality, the story of paleontologist Mary Anning (1799-1847) was drawn from those pages. The adaptation that revisits prehistory to prove to be very current in the deconstruction of patriarchalism is signed by guest director Rhena de Faria.
---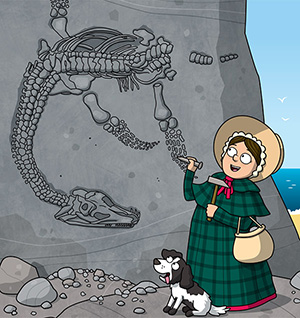 Representative illustration of Mary Anning and her dog, named Trey, when in 1823 she found on a cliff in England the very first skeleton of a plesiosaur. Source: National Geographic Kids.
From poor family, Mary Anning began working at 12 years old. She survived storms and faced dangerous landslides to make great discoveries in the Jurassic marine fossil beds in the cliffs along the English Channel in Southwest England. Mary studied anatomy by dissecting reptiles in her kitchen, and was thus able to reassemble the first skeleton of an ichthyosaur (a large Jurassic marine reptile). Mary Anning's life fascinates children and adults.

Her story, so far only widely disseminated among academics, has taken the stage with Scientists Introducing Mary Anning and Mary and the Sea Monsters. The dramaturgy was a multiple-handed work - by director Rhena de Faria and actresses Cecilia Magalhães, Julia Ianina and Thaís Medeiros, members of the company Companhia Delas. The art direction is by Mira Haa, lights of Wagner Freire and soundtrack by Artur Decloedt. The team also counts on the consulting of Prof. Dr. Luiz Eduardo Anelli, from the USP Geosciences Institute.

The construction of the text took place collaboratively, from many studies and improvisations. The presence of "sea monsters" points to a dramaturgical choice: the protagonist's relationship with the fossils, elements of a true story, blending with the protagonist's imaginary relationship with the prehistoric animas. The play and the text reveal the protagonist's virtues such as curiosity, intelligence, courage and perseverance, showing such virtues triumphing over her difficulties. The play gives to the protagonist the recognition deserved after death, demonstrationg to the public the importance of her legacy for later generations and the recognition in academia that her discoveries constitute some of the most essential geological findings to know the history of Earth.