Memoir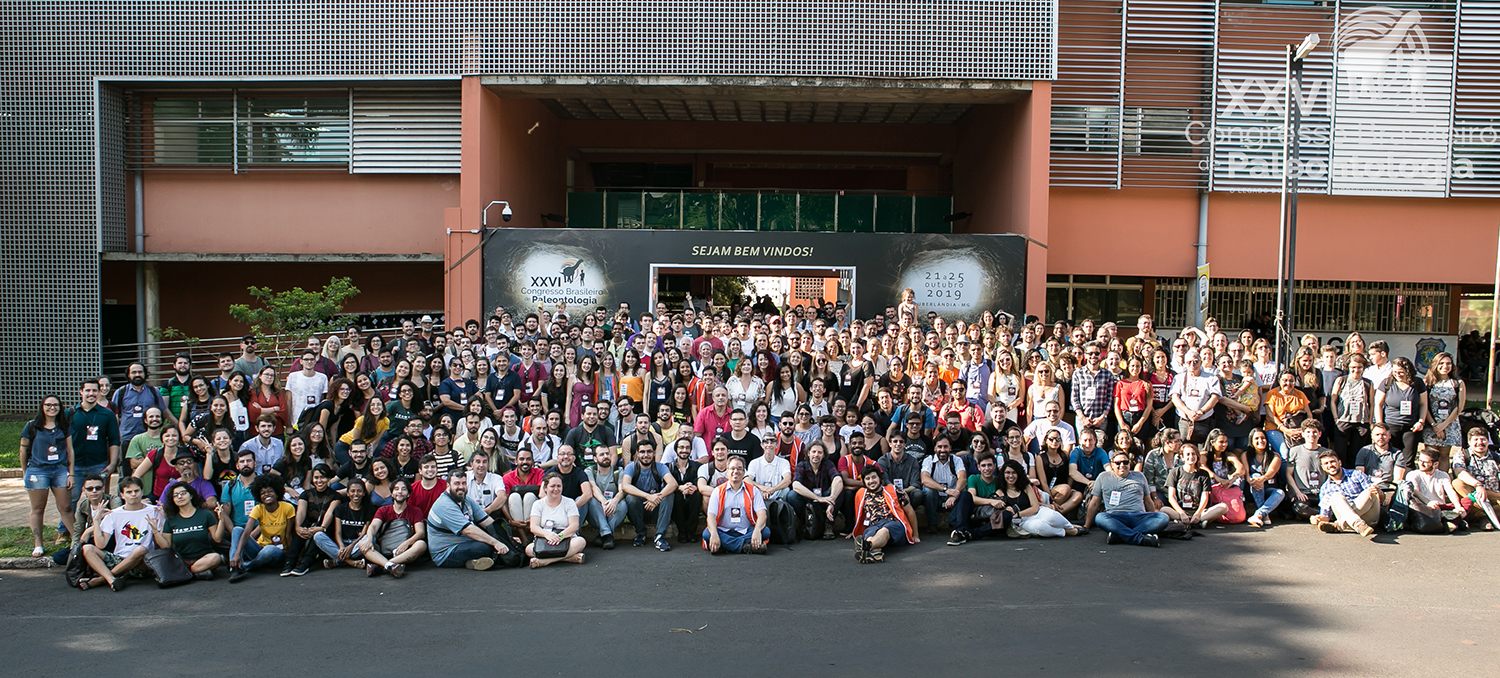 The XXVI Brazilian Congress of Paleontology gathered in Uberlândia 442 regularly registered participants, as well as several visitors who learned and fraternized together in a week of immersion in Paleontology and its multiple faces. Considering also the pre and post-congress activities, the XXVI CBP provided, between October 19 and 27, 2019, the following activities:
14 short courses (from 18 offered);

Three fieldworks (from six offered);

12 lectures;

Seven round tables;

Four symposiums;

Two discussion forums*;

Three in-person honors: to Maria Martha Barbosa (founder of the Brazilian Society of Paleontology), to Diogenes of Almeida Campos (

Llewellyn Ivor Price Medal Award) and to

Beethoven Luis de Resende Teixeira ((

Friend of Paleontology Medal)
Three historical posthumous tributes for the birthday: Georve Cuvier, Charles Darwin and Alexander von Humboldt (naming auditoriums);

Posthumous tribute by naming auditorium and inaugurating an honorary bust* to Diana Mussa;

A beneficent auction;

An assembly;

343 published abstracts (from 354 submitted);

141 oral presentations at four symposiums and eight thematic sessions, 14 of which as mini-lectures *;

191 poster presentations;

Four exhibitions (Fossils, Paleoart, Antarctic Paleontology and CBP 60 Years);

A theatrical show*;

Launch of three books;

Free student accommodation;

Live broadcast*;

An app to manage it all *
* XXVI CBP innovations
In addition, we highlight the opening ceremony with the groups Udi Cello Ensemble and Way'q Jazz Band, excellent coffees breaks and material to participants, the CBP shopping, with t-shirts, pens, bottons, games and four different and exclusive craft beers.
But most important to each one's experience are the friendships, projects, and high-level learning lived together in this unforgettable paleontological week.
To rescue a little of all this, follow the records of the XXVI Brazilian Congress of Paleontology:
Photos:

News:

Vídeos